The Charity Digital Code of Practice could be a game changer
Charities from across the UK have been invited to contribute to the UK's first Charity Digital Code of Practice which is due to launch in November this year. The code, which will aim to help charities improve their digital skills and increase their take up of digital activity, is being funded by Lloyds Banking Group and the Co-op Foundation. It will be voluntary and free to access and the steering group is keen to hear from charities of all sizes as part of the consultation.
The Charity Digital Code of Practice will be relevant for all charities and it's hoped will benefit those with limited capacity for digital engagement. It will include best practice guidelines as well as practical tips and advice and will aim to increase digital motivation and confidence in activities including fundraising and engaging with stakeholders.
I'm pleased to see that the Code's steering group is chaired by the incredibly capable Zoe Amar and we have Scottish input from Sally Dyson at SCVO.
"Applying the culture, practices, processes & technologies of the Internet era to respond to people's raised expectations".
The Co-op's definition of digital, above, will underpin the Code and it shows how digital has evolved beyond channels (e.g. social media or websites) to a mindset, reflecting how it is forming people's beliefs, attitudes and behaviours. If your charity is small, or you are new to digital, a good starting point here is to see it as a set of tools to help you be even more effective and increase impact, and to learn from how beneficiaries and other supporters are using these channels.
The consultation closes 25 September 2018.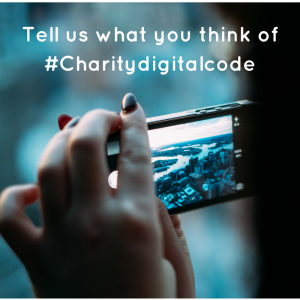 Learn more about the Charity Digital Code of Practice and have your say.